Nino Barresi has been providing the full range of bodywork repairs since 1983.
Our bodyshop staff are skilled in the repairs and repainting of all types of cars. We specialise in Italian and German classic, prestige and high performance cars.
Manufacturer Approved by: Fiat, Alfa Romeo, Mazda, Kia and Hyundai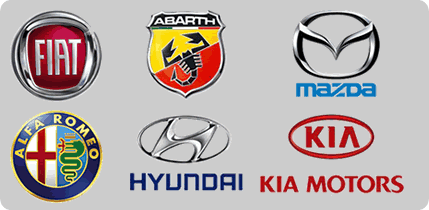 Here is a selection of some of the bodyshop services we provide:
Aluminium Cosmetic and Structural Repairs
Crash and Accident Repairs
Total Resprays
Restorations
Cosmetic Enhancements
Cavity Wax Protection
Chassis Measuring
Accident Advice
QUALITY BODY REPAIRS - GUARANTEED
Your rights following an accident (Fault or Non Fault)
We would like to make you aware of your rights following an accident.
In July 1993, the Director General of Fair Trading asked insurance companies to clarify consumers rights under the terms of 'approved' or 'recommended' repairer schemes. These schemes take the form of a list of garages or a telephone helpline service to put accident victims in touch with a vehicle body repairer with which an insurer has a special relationship.
Despite the Director General of Fair Trading's request, insurance policy-holders still remain largely unaware of their right to have damaged vehicles repaired at the garage of their choice, providing the chosen garage operates to industry standards and that repair costs can be satisfactorily agreed.
In such circumstances an insurance engineer's inspection of the damaged vehicle may be requested before repairs can be authorised, but any necessary inspection should be arranged promptly in order to minimise delays in repairs.
We are able to provide a body repair and claims service for all makes of vehicles and, in addition can:
Provide on the spot help and advice to deal with your insurance claim
Ensure top quality service at all times with priority scheduling to get your vehicle back on the road with the minimum amount of disruption
Provide a replacement car for the duration of repairs
Provide an assurance that the highest standards of workmanship will be maintained at all times through comprehensive checks at every stage of the repair process
Provide you with a fully priced written estimate before work begins